Spaniards have never beaten World Cup hosts
Iniesta retires from international duty in aftermatch
Hosts victorious in first shootout of Russia 2018
They had a favourable head-to-head record against Russia and went into the game as heavy favourites. But Spain were unable to conquer a curse that has haunted them since 1934. For many years, La Roja were plagued by a quarter-final hoodoo at the FIFA World Cup™, with the last eight representing a glass ceiling that they simply could not break through. They finally overcame that obstacle at South Africa 2010 and duly lifted the Trophy. 
On Sunday afternoon in Moscow, however, another curse reared its ugly head again. Spain have still never beaten World Cup hosts at 'their' tournament.
Italy 1934: They drew 1-1 with and lost 1-0 to La Squadra Azzurra
Brazil 1950: They were thrashed 6-1 by A Seleção
Korea/Japan 2002: A goalless draw with the Taeguk Warriors was followed by a 5-3 defeat on penalties
Russia 2018…
The end of the line in more ways than one
As if the loss were not painful enough for the Spanish fans, they then found out that the man whose goal made the country world champions in 2010 is retiring from international football.
"This is the end of a long chapter for me. Everything has a beginning and an ending. Sometimes farewells don't go the way you'd like them to," a crestfallen Andres Iniesta told FIFA after the game.
"We gave it our all, but the opposition stuck to their task and penalties are cruel. We came up short; we weren't able to take that final step. No-one can be blamed for missing a penalty in situations like these," he added. "It's a tough pill to swallow, but we've got to all learn from this experience."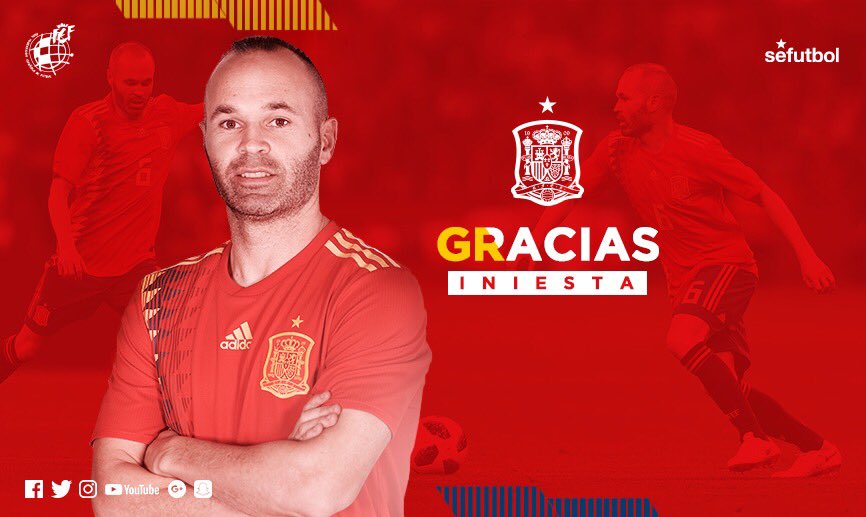 We, Next Door BCN, want to say Thank you Team Spain for great plays in FIFA World Cup 2018. We love you and we are waiting for next victories! And, of course, we wish good luck to all teams in the way to the final.
Come to support Team Spain in Barcelona.
Adapted from:
https://www.fifa.com/worldcup/news/spain-follow-up-447w-2979986 https://www.fifa.com/worldcup/news/heroic-hosts-shock-spain-in-shootout